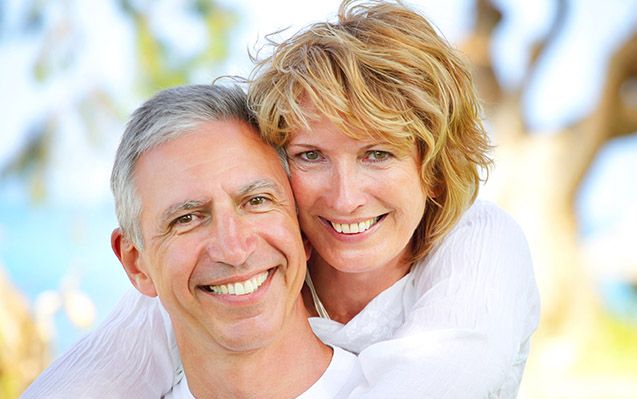 If you have lost some or all of your natural teeth, dentures can be used to replace your missing teeth – improving your health as well as your appearance. Dentures prevent the sagging of facial muscles, which makes a person with no teeth look much older. Dentures also enable you to eat and speak normally, little things often taken for granted until natural teeth are lost.
What are Dentures?​​​​​​​
Dentures have been one of the common prosthetic treatment options for missing teeth; the other common options being bridges and teeth implants. The patient can remove them. They are a suitable for a range of missing teeth dental problems.
What are the types of dentures available?
Full dentures

- used to replace entire set of teeth. Usually, any remaining teeth in your mouth would need to be extracted to fit full dentures.

Over dentures

- those that are fitted over remaining teeth. Generally, over dentures are more stable than full dentures.

Partial dentures

- used for patients who have lost only few teeth. They help to restore normal biting and chewing; and prevent shifting of other teeth. Typically, they are made of acrylic dental resin; sometimes porcelain or metal may be used for additional structural support.
At Ahwatukee Dentistry in Phoenix, we have years of experience providing dentures for our patients. So, we can make your dentures to look and feel like real teeth; they are made to fit each individual patient needs.
What does denture treatment process involve?
Complete dentures are made using your mouth as a model. First, the dentist will take an accurate impression of the upper and lower arches of your mouth. This impression is then sent to the dental laboratory.
At the next visit, the dentist will record the relationship of the arches that best resembles your original bite and helps you select the shape and color of the denture teeth and gums. Keep in mind the color of everyone's gums varies. To make a more natural denture the dentist will help you choose the shade that best matches your mouth.
In the subsequent visits the dentist will adjust your bite, test your speech and check the appearance and functionality of the denture teeth and gums. After a satisfactory fit and appearance is achieved, the denture is then sent back to the laboratory for fabrication.
Dr. Le will let you know if you are a candidate for Dentures because it is only recommended for select cases only, because it may not the best option for everyone, and some patients require more specialized dental care.
Want to learn more about dentures at Ahwatukeee Dentistry? Call us today at 480-508-8200.