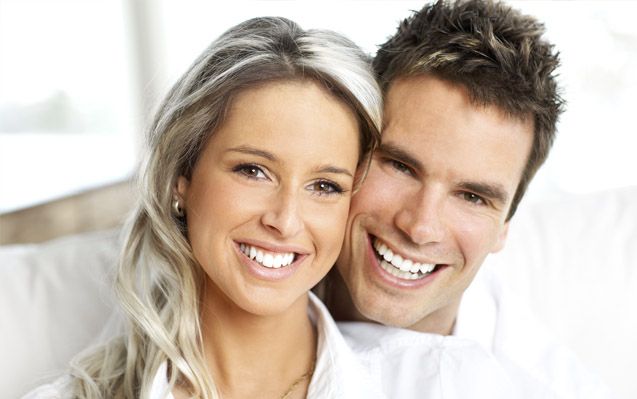 The basis of sound dental care is routine cleaning and maintenance. We customize cleanings on the basis of your periodontal, (gums and bone), health. We utilize medicated gels along with prescription mouth rinses in problem areas if necessary. Ultrasonic scalers are sometimes used to make the procedure more comfortable and effective as well.
Sealants should be used as part of a child's total preventive dental care. Dental sealants are thin plastic coatings which are applied to the chewing surfaces of the molars (back teeth). Most tooth decay in children and teens occurs in these surfaces. Sealants cover the chewing surfaces to prevent decay. Applying sealants does not require drilling or removing tooth structure. It is an easy three-step process: We clean the tooth with a special toothpaste. A special cleansing liquid, on a tiny piece of cotton, is rubbed gently on the tooth and is washed off. Finally, the sealant is painted on the tooth. It takes about a minute for the sealant to form a protective shield. One sealant application can last for as long as 5 to 10 years. Sealants should be checked regularly, and reapplied if they are no longer in place.
Children and adults at high risk of dental decay may benefit from using additional fluoride products, including dietary supplements (for children who do not have adequate levels of fluoride in their drinking water), mouth rinses, and professionally applied gels and varnishes.


Why is visiting the dentist so important?
Visiting the dentist regularly will not only help keep your teeth and mouth healthy, but will also help keep the rest of your body healthy. Dental care is important because it:
Helps prevent tooth decay
Protects against periodontal (gum) disease, which can lead to bone and tooth loss
Prevents bad breath – brushing, flossing, and seeing the dentist regularly will help reduce the amount of bad-breath causing bacteria in your mouth
Gives you a more attractive smile and increases your self-confidence
Helps keep teeth looking bright by preventing them from becoming stained by food, drinks, and tobacco
Strengthens your teeth so that you can enjoy healthy, beautiful smiles for the rest of your life!
How can I take care of my teeth in between dental checkups?
ALWAYS remember to brush your teeth at least twice a day, and floss at least once!
Make sure to use toothpaste that contains fluoride, and ask your dentist if you need a fluoride rinse. This will help prevent cavities.
Avoid foods with a lot of sugar (sugar increases the amount of bacteria that grows in your mouth causing more plaque and possibly cavities) and avoid tobacco (this can stain your teeth, cause gum disease, and eventually lead to oral cancer)
Don't be afraid to brush your tongue! By brushing your tongue, you will remove food particles and reduce the amount of plaque causing bacteria. Tongue brushing also helps keep your breath fresh.
Be sure to schedule your routine checkup. It is recommended that you visit the dentist every six months.
How often should I brush my teeth?
According to your dentist and the American Dental Association, you should be brushing your teeth at least two times a day. Brushing keeps your teeth, gums, and mouth clean and healthy by removing bacteria causing plaque. It is also recommended that when you brush your teeth, you use a soft bristle toothbrush and toothpaste that contains fluoride. You should spend at least a minute on the top teeth and a minute on the bottom teeth, and remember to brush your tongue; it will help keep your breath smelling fresh!


When should I change my toothbrush?
Your toothbrush will eventually wear out, especially if you are brushing your teeth two times a day for 2-3 minutes each time. Your dentist recommends that adults and children should change their toothbrush every three months. If you are using an electric toothbrush, be sure to read the directions as you may not need to change toothbrush heads as frequently. Patients with gum disease are encouraged to change their toothbrush every four to six weeks. After brushing, rinse your toothbrush with hot water to kill germs and keep the bristles clean. If you've been sick, be sure to change your toothbrush as soon as possible.
​​​​​​​